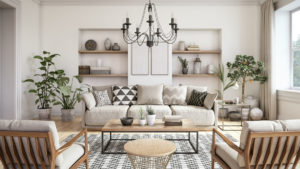 When it comes to selling your home, making a positive first impression on a potential buyer is a crucial part of the process.
Many sellers opt to stage their home – either through professional services or their own efforts – to make their space look more appealing to buyers, both in-person and online. Staging is a popular real estate marketing strategy that is effective at attracting purchaser interest, garnering offers at higher prices and selling homes quicker.
If you're preparing to list your property on the market soon, here are the dos and don'ts of staging your home for sale.
DO – Depersonalize your space
Buyers want to visualize themselves living in their potential new home, a fantasy that can be hard to conceptualize in a space that is decked out with the seller's belongings.
To help buyers build an attachment to a property, it's important to depersonalize. This means removing any family photos, collectables, diplomas and other personal items. Consider depersonalizing your walls and furniture too. Busy accent walls, bold wallpaper and quirky fixtures speak to the specific tastes of the owner. Softening your home with neutral colours and fabrics can help make a potential buyer feel more at home.
However, it's important not to strip your space completely of personality. When staging, stick with basic accent pieces, such as a vase of flowers or simple throw pillows, to liven up the room.
DON'T – Overlook unfavourable smells
When buyers enter your home, they aren't just judging your property with their eyes. All senses are engaged, including smell.
Unappealing odours due to mould, pets and garbage can quickly turn off a potential purchaser, so be sure to tackle them before you welcome any showings. Take out the trash and scoop the litter box regularly. If the smell of mildew is present, give your showers and tubs a thorough clean, and schedule a visit from a contractor to rule out any mould-spawning water leaks.
Don't fill the room with artificial air fresheners either – add subtle natural scents such as fresh linen, baked goods or potted herbs to entice the senses.
DO – Improve the lighting
Dark interiors can make spaces feel cramped and uninviting, so introduce an abundance of light into your home.
When staging for photographs or showings, open all of the blinds and drapes, and remove obstructions away from windows to let in as much natural light as possible. You can also boost the amount of lighting in the home with a layered approach. In addition to ceiling lights, use a mix of floor lamps, wall sconces, undermount lighting and table lamps to brighten your space for potential purchasers.
DON'T – Forget about curb appeal
Buyers can easily make a snap judgement about your property from the minute they arrive on the street, so get things off to a good start from the get-go by staging your home's exterior too.
Begin with a simple clean up, like mowing the grass, power washing the siding and walkways, and freeing the lawn and eavestroughs of any fallen leaves or branches. Be sure to repair any broken porch lights or wonky house numbers. Complete your property's refreshed façade with a clean doormat and some inviting potted plants or hanging baskets on the front porch. And, don't underestimate the power of a fresh coat of paint on the front door!
DO – Rearrange your furniture
It is possible to have too much furniture – overstuffed rooms can give the illusion that there is a lack of spaciousness. When staging your home for sale, don't be afraid to put some items in storage or swap furniture out to achieve an appealing layout that buyer's can easily walk through. If space permits, pull furniture away from the walls to allow for more movement and reduce any dead space in the centre of the room.